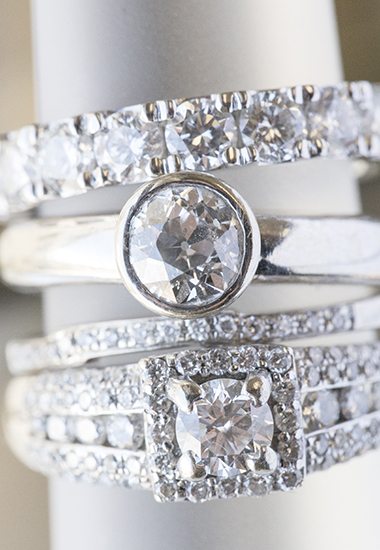 Looking for a special piece of jewelry?
 Click on The Jeweled Crescent logo below to visit our sister company and learn more about what we offer.  At The Jeweled Crescent we sell both new and vintage jewelry at a wide range of prices.
CUSTOM JEWELRY DESIGN & REPAIR
---
Updating your jewelry box at EMS Estates is a unique creative experience. Our imaginations are the limit!  Whether we are creating a new custom jewelry design, repairing an existing piece of jewelry or are restoring a favorite jewelry piece, EMS Estates will make the process easy.  I work with an extremely talented team of goldsmiths and jewelers and choose each for their speciality.  At EMS Estates your custom jewelry design & repair needs are in great hands.
Custom Bridal Designs
Don't let the word "custom" scare you off.  It is frequently more cost effective for our jewelers to create a piece that is exactly what you want than to modify something from a catalogue!  At EMS Estates I offer design services for entirely new creations including bridal and wedding jewelry.  I frequently use old cut diamonds and other gemstones to create vintage looks.  I also enjoy creating custom designs for bridal jewelry that feature colored gemstones like sapphires. From modern, sleek looks to detailed looks of old, together we will create the jewelry that will celebrate your marriage for a lifetime.  Whatever your budget, I'll help you maximize the quality and beauty of your custom bridal jewelry.
Custom Jewelry and Restoration
There are few things as special as the gift of custom designed jewelry.  While cell phones, tablets and even experiences are welcome gifts these days, none of them have the lasting power of jewelry.  Long after the latest gadget has gone obsolete, a gift of jewelry can be as bright, colorful and certainly as meaningful as the day it was given.  A father's special gift of a necklace for his daughter or a jewelry surprise on Mother's Day are gifts that last a lifetime.  Make your gift even more special by creating it with me.  I'll happily guide you through the process of custom jewelry design for your loved one, even if that's yourself!
At EMS Estates we deal with a lot of vintage and antique jewelry, so we're quite familiar with restoring and recreating it.  Whether it means turning a brooch into a pendant or fixing tiny cracks with a laser welder, I have the right team with the right tools to recreate and restore your jewelry.  Some of the most fulfilling work I do is help clients recreate something they'll use from older family jewelry.  Styles may change over time, but jewelry and gemstones are family heirlooms that carry us from one generation to the next.  From vintage inspiration to modern sleek lines, we'll re-create jewelry that will live on you, not just in your jewelry box.
Jewelry Repair and Restoration
EMS Estates is your single source for jewelry repair and restoration including sizing, resetting and watch repair.  We can add inches to chains as well as source and set missing stones.  Are your rings fitting properly?  If not, that's an easy fix for us.  Changing earrings from clip backs to posts?  Or the other way around?  You got it.  Just need an old fashioned deep cleaning on your wedding ring?  No problem.  When you bring your jewelry in for repair, I'll give you accurate quotes and I'll proceed with your permission.  Let's get your jewelry out of the box and back onto you.