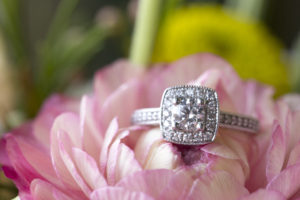 Buying diamonds can and should be a fun experience. To make the most of it here are my top 3 tips to make for a seamless shopping experience!
Buy a diamond with a certificate.  You need a diamond grading report or appraisal from a Graduate Gemologist- someone trained at the Gemological Institute of America. This will ensure your stone is graded to the highest standards and there's no question of what you are getting.
Buy a diamond, not a certificate! This might sound contrary to my first point but it isn't. Some buyers study reports looking for the 4 C's but buying a diamond just based on a report without seeing it would be like buying a car without a test drive. You can do it, but grading reports don't always show you that sparkle, fire and brilliance we want from our diamonds. Find a jeweler you can trust (oh hey!) and ask them to bring in several stones for you to choose from. You'll be surprised at the differences between stones.
Consider factors beyond price. Buying a stone online might be cheaper but you get what you pay for. Retailers offer an in shop experience that allows you to look at multiple stones at one time. You also have the opportunity to see loose stones in different settings and retailers are the ones you go to for questions. Retailers also warranty their work and most can perform repairs. Once you find a jeweler that you trust, you will recognize the value of speaking to someone in person and getting help maximizing your budget.