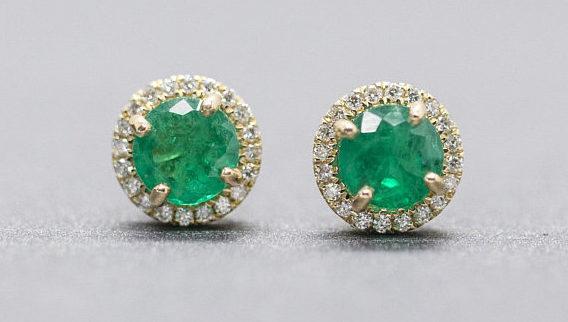 Here in Portland, spring might have officially sprung. We're not totally sure, because the days in Oregon tends to vary wildly between "warm and sunny" and "I'm so cold, why is it still raining?" One of the things we love most about spring is seeing the flower shoots pushing through the earth to soak up the delicious sunshine. The beautiful, vibrant green embodies the lush green of the elegant emerald, no matter the context.
While we love the idea of celebrating a birthday in May with an emerald tiara, we know that the cost might be a bit prohibitive (for anyone who isn't royalty). That doesn't even take into account being able to get your hands on one!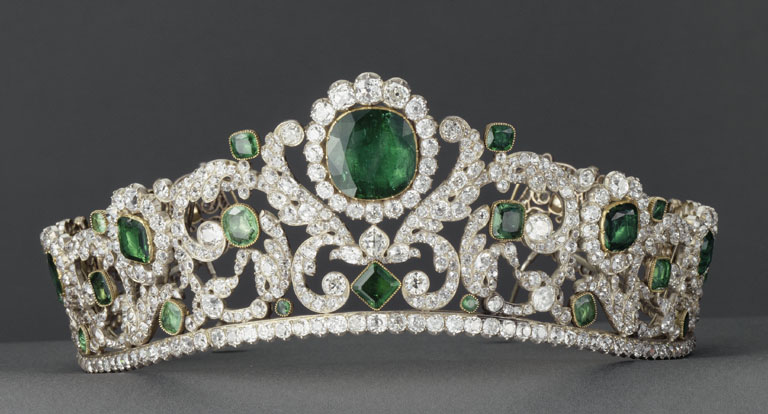 This Diadem belonged to Duchess of Angouleme and is now property of, and displayed in, the Louvre Museum. It's value is immense not only because of the exceptional stones used for its creation but also because of the fact it is one of the few pieces of jewelry of the period that remain in their original state.
We don't seem to have any tiaras in stock at the moment. However, here are a few of our favorite pieces currently available to inspire you in the name of springtime:
This 3.71ctw 18k Emerald Art Deco style pendant is set with 137 glittering diamonds in gorgeous white gold. The pendant features a pear shaped emerald that is held with three prongs, two at the base and a v-cap at the top. The emerald sits above the rest of the pendant in a gloriously prominent position. Click here to view more about this pendant.
These emerald and diamond halo earrings are truly a work of art. Dramatic, natural Colombian emerald in a head-turning size, these earrings feature combined 1.31ctw center stones. Surrounding the treasured true green is a delicate halo of F/G VS2 diamonds with a combined total weight of 0.30ctw. Click here to view more details.
Like many gemstones, emeralds have a multitude of meanings stemming from different cultures and beliefs. In mythology, emerald is the stone of the goddess Venus, resulting in the association of emeralds with romance. Emeralds are said to bring passion, bliss, and unconditional love! Legend has it that wearing emeralds can give you the ability to foresee the future and see the truth. It has also been believed that emerald has the power to cure disease and protect against evil.
It would be our pleasure to create a unique custom piece of jewelry for you. Simply click here to get in touch.