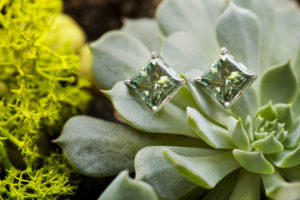 Summer's here, which means the wedding season is heating up. A good look can hinge on the perfect jewelry choices, so whether you're celebrating your BFF's nuptials or going as a plus-one to your college roommate's cousin's second wedding, make sure your jewelry shines.
Use your ice to turn up the heat!
We all know how sticky PNW summers can get, and it may be tempting to forego traditional fabrics and cuts that you know you'll swelter in. Dress up flowy, mercifully breathable cotton maxi-dresses and jumpsuits with some well-placed sparkle!

Reduce, reuse, recycle.




If you have six weddings to attend in the next six weeks, crafting a new look for each one might be a chore. Use your jewelry to refresh a piece for the next event—dress up a daytime look with some dramatic dangle earrings, or keep things casual by pairing bright pendant with a classic LBD.

Don't be afraid to experiment.




It's good to try new things! Just find your groove—if you feel too conservative for a statement ring, try a couple mini stackers instead!

Consider customizing.




You wouldn't want to show up in the same dress as another partygoer, so why settle for mass produced jewelry? Consider investing in a custom or one-of-a-kind vintage piece to complete your unique look.

Shop your jewelry box.


Afraid your jewelry have gotten dull or lifeless? Revitalize your collection with a professional deep cleaning and bust out your faves!

Don't overdo it.
You want to make a splash, not cause a scene. Big pieces make a statement, but be sure your rings won't upstage the bride's!
Check out The Jeweled Crescent for all your summer wedding jewelry wants and needs!