Pearl jewelry is a unique treasure to be passed from generation to generation, but some special handling may be required to keep your pearls looking their best.  Here are a few key tips: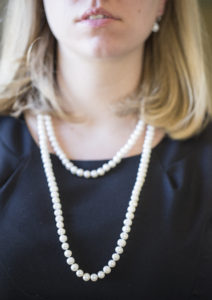 Put your pearl jewelry on last thing and make your pearls the first thing you take off.  Don't get hairspray, perfume, lotion or any sticky stuff on your pearl jewelry.  Pearls are made pretty by their luster, so don't let their glow be dimmed.  Your skin, however, is the best treatment for keeping pearls looking young, so wear your pearls often.
Gently, very gently, wipe your pearls with warm water after you wear them.  Don't let them sit in water or put them into any chemical cleaners.  A soft cloth with warm water is all your pearl jewelry should ever need.  If you need clean metal in which pearls are set, use soft polishing cloths and avoid touching the pearls themselves.
Pearl necklaces are strung with silk thread which can stretch over time.  Store your pearls laying flat, not hanging.  Don't tug on them and be careful when wiping them clean not to put excess pressure on the knots.  If you do notice space between knots, its time to get them restrung.  A reputable jeweler or gemologist (like me!) will be able to help you.
Pearls are one of the most amazing gemstones the earth offers us.  Jewelry made from pearls has been prized since ancient times.  Take care to keep your pearls looking their best for years to come!